Choose from the options below to receive your quote.
What kind of

property

do you have?

Detached

Semi-detatched

Terraced

Bungalow

Flat
How many

bedrooms

do you have?

1

2

3

4+
How many

bathtubs

do you have?

0

1

2+
How many

showers

do you have?

0

1

2+
What

type of boiler

do you require?

Combi

System

Heat Only
What kind of

fuel

does your boiler use?

Natural Gas

LPG (Bottled Gas)
Boiler Replacement Bristol
At Greener Homes, we are a team of friendly and professional heating engineers who are happy to assist our customers with all their gas boiler replacement and new boiler needs. Safety is one of our utmost concerns, and we ensure that all our staff are Gas Safe registered and fully trained to work professionally and safely.
Greener Homes Services Include:
We offer you the highest quality workmanship and services.
Boiler Installations
Boiler Repairs
Boiler Replacements
Boiler Servicing
Central Heating Installations
Energy Efficient Advice
Gas Safety Inspections
Landlord Safety Certificates
Get A Quote
Professional Service

Gas Safe Registered
Only use a GAS SAFE REGISTERED ENGINEER to FIT, FIX and SERVICE your gas appliances. Removing a boiler can often leave behind hazardous materials, so we aim to ensure nothing is left behind and place safety at the front of everything we do. You can view our gas safety registration profile here.
Get A Quote

After Care
Our aftercare is just as professional as our installation. We ensure that all waste is safely removed and disposed of so our customers don't have to worry about tidying up our mess! When replacing and installing boilers there often tends to be hazardous materials as well, so we aim to ensure nothing is left behind.
Get A Quote
Your Local Boiler Installers In Bristol
As your trusted Gas Safe Registered local gas specialist in Bristol, we're on hand to assist with any heating or gas issues that arise in your home or property. We've accrued over 20 years of experience replacing boilers and we've installed boilers in properties of all shapes and sizes. Do not hesitate to contact us. Pick up the phone or fill out our enquiry form to trigger a call back within 30 minutes to discuss you boiler or heating requirements.
Why Do You Need A New Boiler?
A new boiler is something that can be seen as a bit of a forgotten element to a home, however, you would be surprised how often you do use it. Heating your home be that the radiators or even your water are two uses you could not live without. As a boiler gets older, you may notice that it starts to under perform compared to what it once had. This is when you may need to consider having a new one installed.
Yes, you can have your boiler serviced and maintained which will help its lifespan, but over the course of its duration in your home is it potentially the most used commodity. Having a new boiler installed can help for a variety of reasons. The main two being efficiency and cost. If your boiler is more efficient it means it can heat your home better. You may then find you are able to use it less. Saving you money on your heating bill, and also preserving its lifespan.
The Cost of a Replacing a Boiler
Another reason to get your boiler replaced could also be cost. Typically, if you want a state of the art boiler installed in your home or property – you're looking in the ball park of £2,500.
There are cheaper options. The bottom of the market being £1,500, and the top of the market being £4,000 or more. The cost is mostly dependent on the size of your property and the amount of bedrooms and bathrooms you have. Of course, the model of boiler you opt for affects the pricing, too.
Do you want the iPhone equivalent, or an Android boiler? Or are you happy with the old beat up Nokia keeping you warm? Something to think about.
Cost of A New Boiler vs Money Saved On Bills
The cost you'll save on bills, weighted against the cost of a new boiler. Now, this may sound counter productive, however, having a new boiler installed can save money in the long run. Not just on the bills. If your boiler is older then you may find you need to have it repaired more often, this can be costly. We do have maintenance and services packages, but these are more tailored to the boilers we fit. A new boiler may be an initial large outlay, but its benefits in the long run definitely outweigh the cost.
Worcester Bosch Approved Installers
As you may have read before we are Worcester Bosch approved installers. This means that the products we use are from the market leader, with all the team fully trained to fit them. Not only are we approved to fit, but it also means we are able to offer safe and accurate advice to which is going to be the best fit for your home.
We Have Years of Experience Replacing Boilers
At Greener Homes, we have numerous year's worth of experience in replacing gas boilers in Bristol across various locations within the South West of England. A number of customers also utilise us for other services such as maintenance, or even their yearly service. So if you are looking for expert advice on having a new boiler fitted, and want to work with a friendly, knowledgeable, and professional company then look no further than Greener Homes.
The Importance of A New Boiler Replacement
Your boiler is, without a doubt, the most important part of the central heating system within your home. You should make sure that your boiler is functioning as optimally as it could be. If your boiler is not heating up your property effectively, or is constantly in need of repairs and maintenance, then it may be time for you to consider replacing it. Our professional team here at Greener Homes have all the experience and know how to get you sorted.
Greener Homes: A Worcester Accredited Installer
Worcester Accredited installers are recognised domestic and commercial heating companies that meet or exceed the standards of sustained quality of installation, service and customer care.
Worcester Bosch ensure our clients receive a high standard of workmanship and professionalism, our accredited companies are monitored by several recognised trade and industry bodies.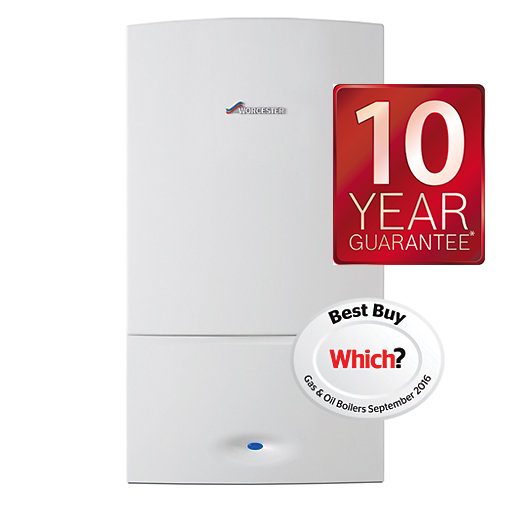 Get A Quote
New Boiler Installations
If your boiler is over 10 years' old it could be costing you quite a lot of money to keep it running as older boilers tend to waste a lot of energy and can be more harmful to the environment.
Research has found that older boilers could be converting as little as 60% of the fuel that they use, making for a very cost-inefficient heating process.
Get A Quote
Boiler Replacement, Service & Repair in Bristol.
Based in Bristol, we provide gas and central heating services to homes and businesses across the South West.
Bridgwater
Bristol
Exeter
Get A Quote